JI Foods (Jyoti International Foods Pvt. Ltd.) is a reckoned brand in the Indian food supply chain space. We are the preferred national supply chain partner for leading food service and HoReCa brands such as Subway, Cinepolis, Rebel Foods and Wow Momos, to name a few. Our journey started 20 years ago and over time, we have established our presence — covering 95% of the organized retail clusters in the country through DC operations in 10 states, supporting the requirements of our clients across 150+ cities — catering to 2000+ pin codes.
Enabling a Full Stack
Food Distribution Solution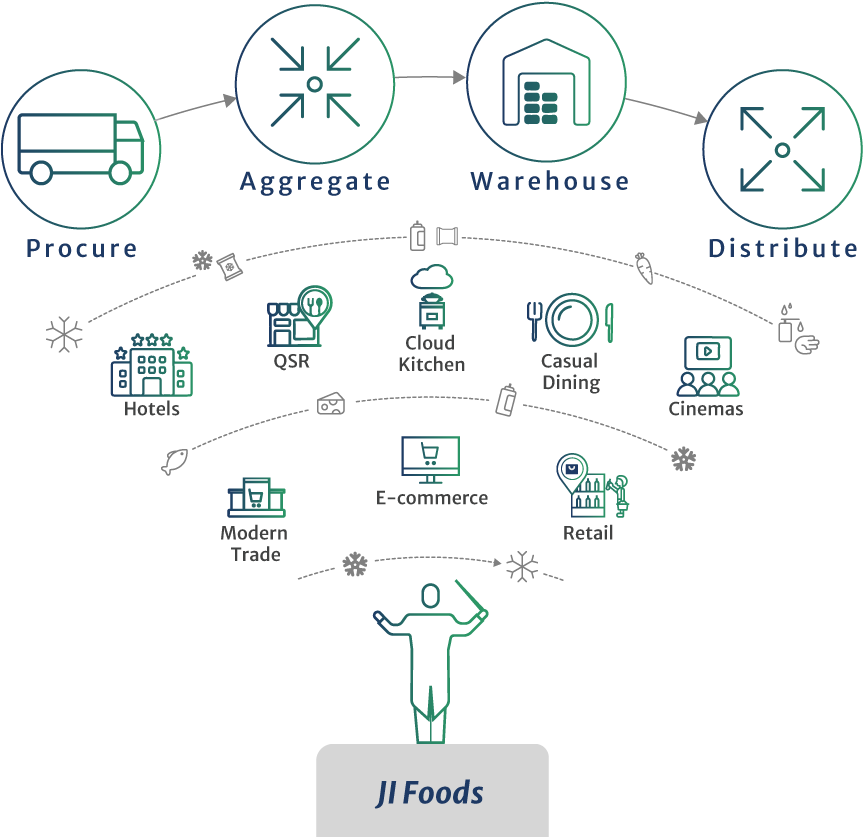 We operate as a single supply chain interface for manufacturers, suppliers and retailers. This lean approach ensures faster query resolution and business transactions. Retailers get to order different products from different origins in a single consolidated shipment from a single source, while suppliers benefit from a single truckload (TL) shipment to a single destination — instead of multiple less than truckload (LTL) shipments to multiple restaurants — thus ensuring reduced operational complexity and remarkable cost savings on logistics.
We optimize our customers' time, effort and investments through this integrated approach which makes us the single point of responsibility to ensure that customers' requirements, and expectations, are fulfilled 100%.
Looking Ahead
We are deepening our regional presence within the HoReCa sector while actively engaging with leading e-commerce and modern trade brands, to embed our sustainable supply chain value proposition — which assures them of higher fill-rates and product diversity — with 24 x 7 x 365 support across India. Our experienced management team successfully leads and manages our growth interests and nurtures partnerships with a win-win mindset at all times.